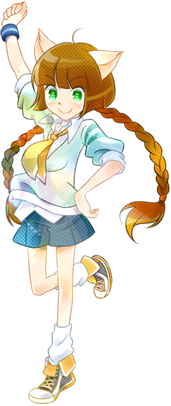 Nyami, voiced by Marina Goto, is one of the characters from Pop'n Music, where she and her partner Mimi are the mainstay mascots in the series; but they were only heard as current announcers of Pop'n Music 19 TUNE STREET, Pop'n Music portable 2 and singers for TWINKLING in Pop'n Music Lapistoria, where she wields the yellow jewel-shaped lapis.
Personality
Edit
仲良しのミミといつも一緒にいる猫の女の子。
2人は明るくひょうきんな性格で、テレビの司会や 歌手としても有名なんだよ。
The cat girl has been always a good friend to Mimi.
With two people having cheerful, funny personalities, she's also famous as a TV presenter and a singer.
Nyami is one of the two main mascots of Pop'n Music. She is identical to Mimi's appearance, but she is a cat, who is a feisty, playful tomboy. In comparison, Nyami wanted to dress up in male clothing. However, this isn't always the case, but she was almost, never seen without her friend Mimi, who she met while auditioning for Pop'n Music.
Nyami is currently asked by Timer, who seems to genuinely hang out with him; whenever he'll be there to support her in order to be his girlfriend.
One of Nyami's favourite hobbies are chatting and enjoying her spare time to play at amusement parks; especially riding on roller-coasters that she loves, but hates drinking coffee from each cup.